Like many startups and content marketing enthusiasts, I read GrooveHQ's blog regularly (it's long positioned itself as a must-read in the industry, really). Around the end of 2014, Alex from Groove published a post titled 10 Ways We Come Up With 15+ Blog Post Ideas Each Week. Reading this quietly by a shiny Christmas tree, I thought to myself: "You should really talk about how we handle content at Snipcart."
Because for us, content marketing has been an indirect yet powerful business driver. It has helped our product to rank first page for relevant keywords and consequently driven lots of organic traffic through our door. It has strengthened our relationships with both our users and our partners. It has helped establish and promote our brand's image and values online. It has even directly converted a few readers into Snipcart users.
I think it's safe to say content has been good to our startup. So I thought I'd give back a little, and explain how we handle it. Whether you're a tech startup or a different kind of business, I'm pretty sure this post might be helpful. It'll offer a detailed, hands-on approach to content creation.
Note: This post was originally published on the official Snipcart Blog and shared on our monthly newsletter.
Step 1: Pick a blog post idea
If you want to learn how to come up with blog post ideas, I suggest you read the Groove post I mentioned in the intro. Like them, we use Trello to keep track of our potential ideas, our works in progress, and our completed posts. It's simple, free and effective.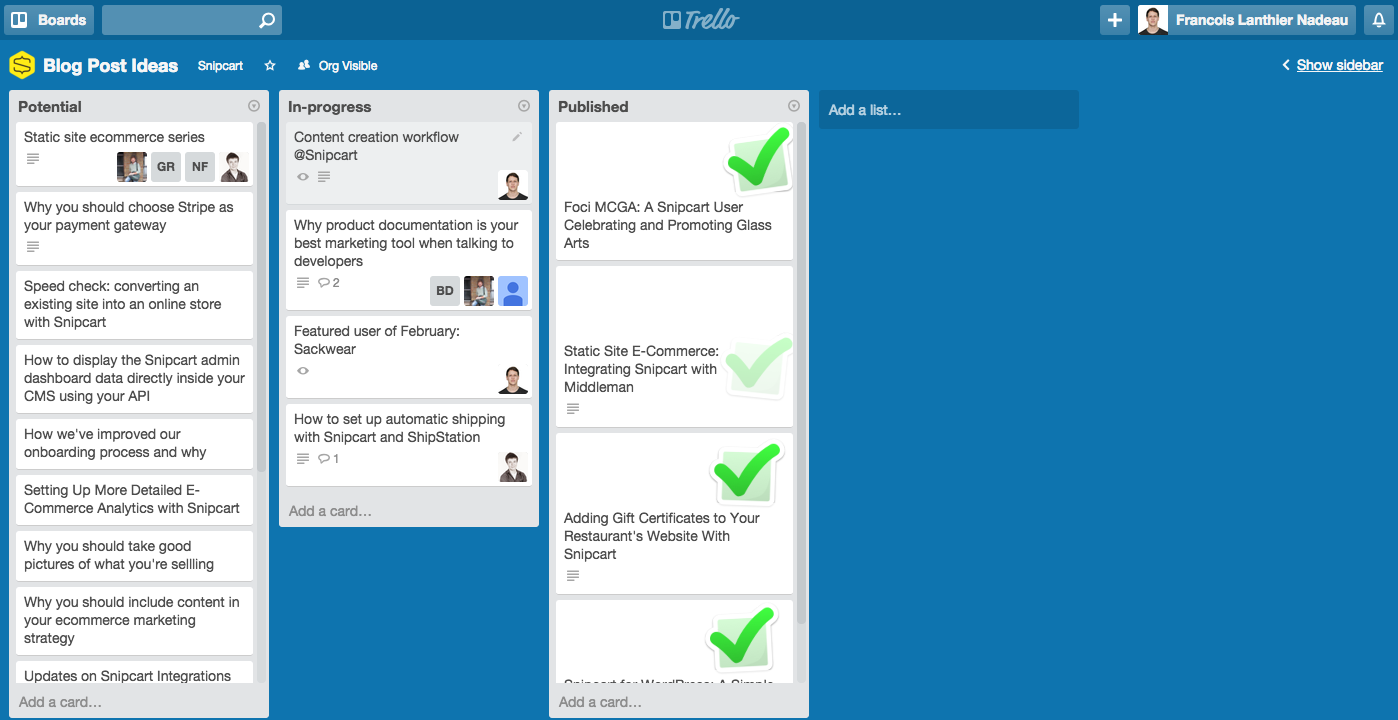 The sources for these ideas are diverse: user feedback, discussions with the team and potential partners, presentations/pitches feedback, inspiring articles we read, and more. The support tickets we get are a great pool of content ideas: they highlight concrete, specific problems our users face. Same goes for all the features and suggestions submitted by our users through UserVoice: they're a good source of inspiration for valuable content creation.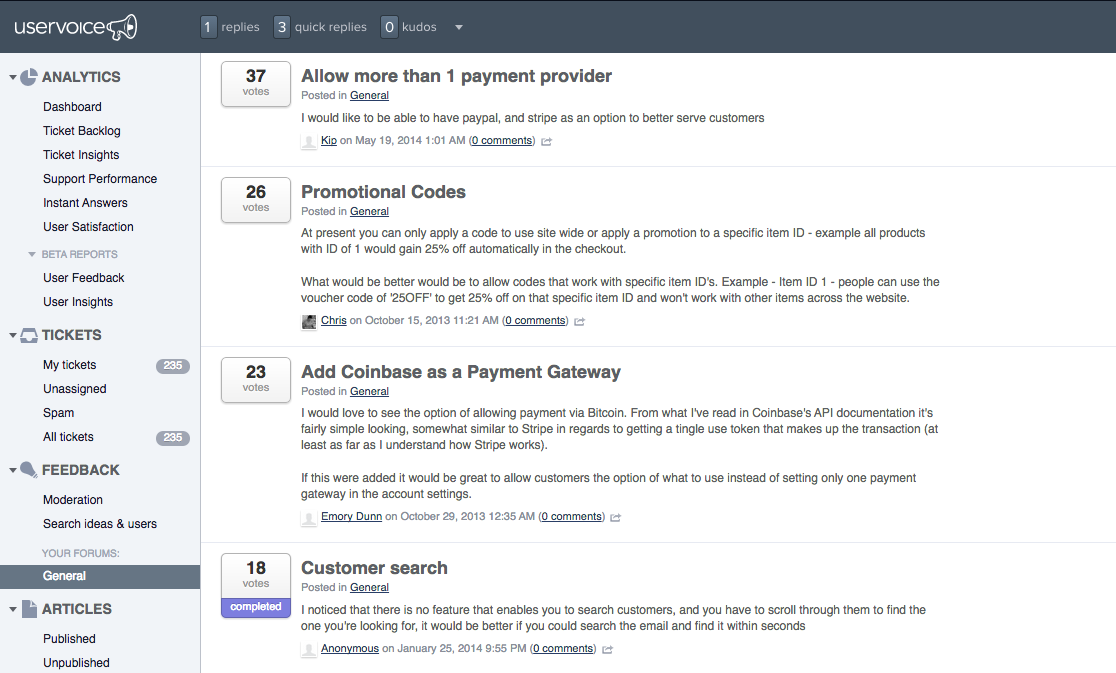 Once I've decided on a post idea we'll be working on, I simply switch it to the In-progress list on Trello.
Step 2: Do some research
I don't always approach this step the same way. Sometimes I write about more SEO-oriented subjects, such as adding gift certificates to restaurant websites or designing a conversion-optimized checkout flow. When I do, I adopt a more traditional keyword research approach.
Keyword Tool and Adword's Keyword Planner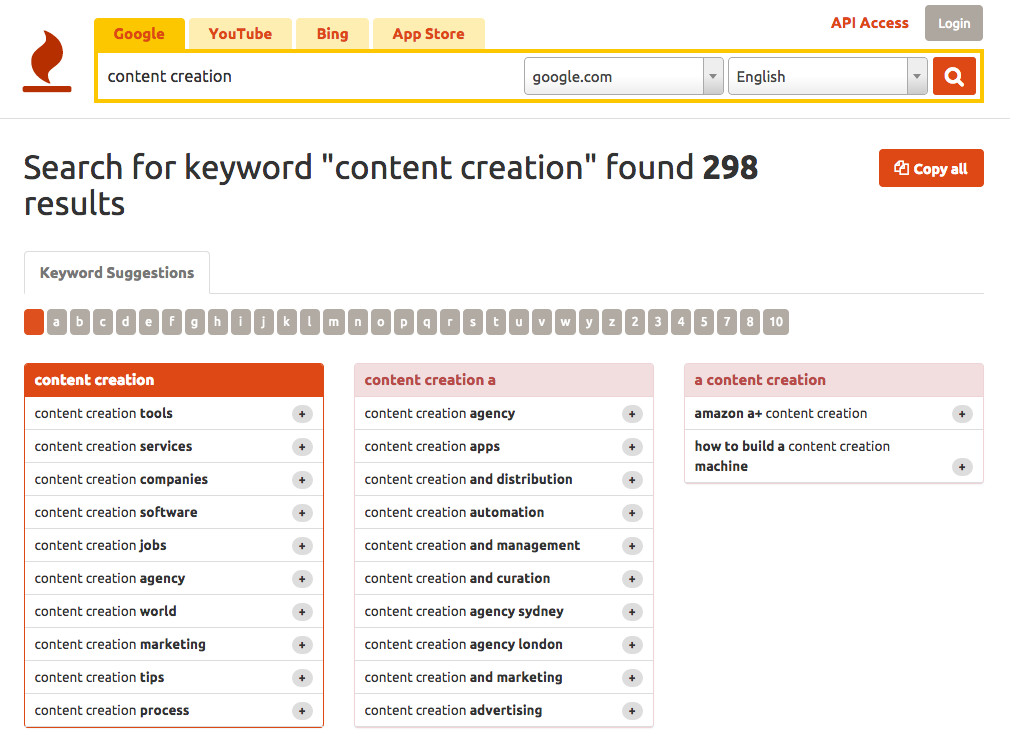 Keywordtool.io is a neat little tool that gives me a lot of ideas when it comes to relevant keyword variations. Sometimes, for instance, targeting more long-tail keywords is a smarter way to rank blog posts on the SERP (Search Engine Results Page). Selecting a few of the KW propositions using the small + allows me to paste them directly into Adword's Keyword Planner. I can also use the pro version of Keywordtool.io for this. After that, I simply pick the ones with the most potential traffic & least competition and craft my post with them close in mind.
Google, Twitter and direct research
Another thing I like to do is simply to Google my chosen keywords. Then I look at the first page's results, pick a few articles that seem high quality, and just read. I soak in the content, the lingo, and the themes. Then I make sure my angle either complements or tackles the issue slightly differently. It's all about adding value for your readers.
Sometimes I'll also go and check out Twitter for a while, researching different keywords or hashtags. Lots of tweets highlighting the same issue will confirm that the subject needs coverage, for instance. Or, on the other hand, a small number of related tweets can mean that there's place to innovate on that subject with fresh content.
When I write about specific partnerships or user problems, the research part is slightly different. I usually email the partner with questions or set up a Google Hangout call to make sure I've got all the material I need. When we're tackling a user issue or something more product-related, my research mostly consists of talking with devs or users, either in person or via email.
Step 3: Plan and put together a first version of the post
Planning your post will give you direction. I don't overthink it, though: I simply put together some main sections and bullet points in a document, and then go from there.
More often than not, I use StackEdit for the draft part. Our blog uses Markdown syntax for formatting, and StackEdit's live rendering of Markdown works like a charm. Also, the UI is pretty clean, which inspires me to write and focus on my work.
If I need a team member to chip in, I'll assign him to the post's card in our Trello board. I'll write a quick comment about what I need him to do. When collaboration becomes essential, I usually switch to Google Docs.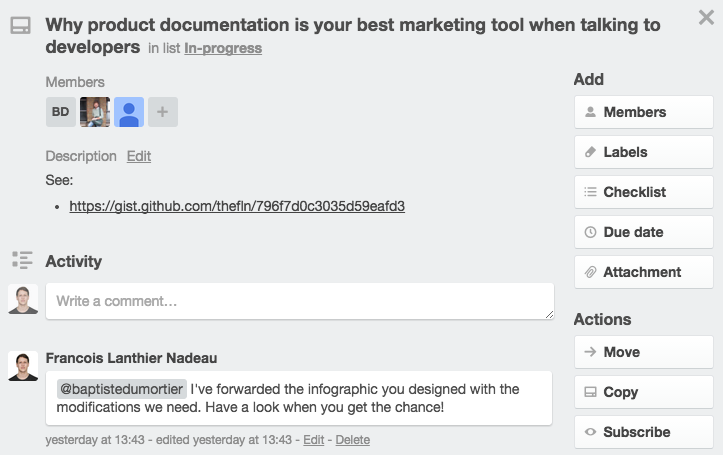 Find the images and screenshots needed
Once my rough draft is written, I settle on the visual part of things. At Snipcart, more often than not, this implies capturing the right screenshots. I use Awesome Screenshot a lot for this. Other times, though, I'll ping some customers and ask them to send over some pictures (for our featured user of the month series).
For the header image, I either ask our designer to put together a neat image for the post, pick a generic one or design one myself. To be honest, this is the part where we lacked consistency throughout last year. After reading this Buffer blog post, though, I've decided to take better care of our header images for our posts. If our designer is too busy to come up with something cool, I'll use a tool like Canva to create a decent image.
And don't forget to give appropriate titles and alt attributes to your images for SEO purposes.
Step 4: Collect appropriate feedback, then improve the post
Now I believe this to be a crucial part of content creation. At Snipcart, the whole team's aware of the value content has for our startup. Consequently, we're all involved in it (some more than others, granted). So when I'm done with the first version of a post, I always submit it to the whole team. I share a draft version on Slack and invite them to give relevant feedback.
Sometimes, we create posts that involve other parties, such as another application, service or customer. When I do, I always send them a version of the post they can comment on. Requesting their input and approbation is a mark of respect and helps to improve the post, always. It also involves them more in the content creation process, making them more likely to participate in the post's promotion.
In this case, I either use Gist or Google Docs (coupled with emails), to collect the feedback I need.
Finally, I make sure to scan the final version for errors. We've subscribed to Grammarly for this purpose. When it comes to trimming the content and focusing on what's essential, I've found the Hemingway Editor app to be painfully useful (I have not been using it as much as I should lately).
Step 5: Schedule the post for publication and notify concerned parties
When the final version of the post is ready to go, I schedule it in Buffer. If you don't know about Buffer by now, please click on the link. As far as social media content management goes, it rules.
Once the post goes live on our social media channels, I email all concerned parties, inviting them to share it on their own channels. Oh, and I also make sure to involve our team. I'll write up something like this in our Slack channel (with a link to a tweet or a post attached):
The Saint-Snipcart church is ready to collect your social donations. Blessed be the team members who support our content efforts (damned be the others).
The post will then be re-posted another time in our monthly Mailchimp newsletter.
Get real with content
Yes, it was a long post. That's mainly because valuable content is a lot of work. I strongly believe a good workflow can help structure content marketing efforts for both startups and businesses. For us, its benefits are crystal clear:
SEO bonuses and higher rankings
More signups/conversions
An affirmation/promotion of the business' image & values
A strengthening of the relationships with audience and partners
Content marketing is well worth the time, plus it's cheaper than traditional online advertising. And, to be honest, it just feels more real when done right.
So we encourage all startups and businesses to get real with content, as soon as they can.
If you enjoyed this post, feel free to share your own thoughts or experiences with content and startup marketing with us! And to get more posts like these in your inbox, subscribe to our newsletter.
💡
To get my posts in your inbox, hit that purple button, bottom right corner.